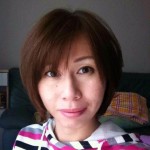 by Naoko Amano
Why do I teach English to young learners?
What do I want to do as a teacher of English?
These were the questions that I asked myself this year, but let's start at the beginning.
I teach English to young learners in my own private school called Yellow Banana in Kishiwada, Osaka. Back in January 2015 I also had a branch school in Izumisano, a town in Osaka Prefecture. I took over classes from my friend as she had moved to Tokyo but didn't want to dismiss the groups. I had 15 students in Izumisano school and taught them every Tuesday. For our classes, I rented a room in the basement floor of the big city hall. It was a bleak space for learning – no windows, grey walls, no Internet connection. As you might imagine, it was not good enough for teaching, especially for teaching little kids! Every Tuesday I carried boxes full of decorations, colourful posters, and toys to make our room look brighter. After classes finished, I had to take it all down as the city hall required to leave the room empty and clean.
No wonder I wanted to offer a better environment for learning English to all of my students, so I asked the parents if the kids could come to the main Yellow Banana school in Kishiwada. I explained clearly why I thought it was necessary and a better option. However, they could not accept my offer and all those 15 students quit my classes.
I have to confess, I was shocked. I simply was not ready for this answer. As any teacher probably would, I had expected them to want to stick with me, no matter where the classes would be held. The students might have wanted that, too, but they could not. The parents explained that it is too far for the kids to go by themselves, and that is the main reason for them to leave. I realized that there was nothing I could do about it. Yet at the same time, I felt so guilty about taking away the place where the kids were enjoying learning English. Losing students was the biggest thing for me and gave me a reason to think about teaching.
Why do I teach English to young learners? What do I want to do as a teacher of English?
I know that for me teaching English is fun. Using English myself and seeing the students use English is fun, too. I keep looking for new ways to teach English in a fun way… But something was just not right. At that time, I received an offer to write a blog post for iTDi. I was really scared and insecure. After all, I'm just a teacher at a small school, how can I have anything interesting to say?! However, I got warm comments on that post, which gave me the courage and confidence I needed so much.
It was then when I stopped counting what I'd lost and looked at what I had. I realized that there were teachers around who might feel the same way. I had support, many good friends, my family. I was not alone. After feeling down and depressed, I finally regained my energy and confidence and started getting ready for the new school year.
Nine months later, Yellow Banana is still a small English school for kids. My family allowed me to use one of the rooms in our apartment as a "classroom". I decorated the walls in that classroom with posters, flashcards, and toys. There are shelves with the books I can use, as well as the Internet connection that I can rely on. Both my students and their parents are happy with the new room. As for me, I now have more time to prepare for lessons, I have more time to talk with the kids and parents. What's more important, I think now I know more about the kids than I did before, I know them better.
So why do I teach English to young learners? What do I want to do as a teacher of English?
Today, I will answer like this. I teach English because I can tell for sure that learning English is being able to learn about anything in the world. I want English to become a language as important and natural as Japanese for my students. With the help of my classes, I want to encourage these kids to live with confidence and have dreams that English can help them fulfill. I am teaching English to see kids' shining eyes.
The experience I have been through this year helped me to get stronger. Maybe my post is not such a big deal for other teachers, but this is the way for me to express my gratitude to the bloggers, authors, and other teachers who share their lesson ideas and help me learn more about teaching English. The more I get to know about students, textbooks, new ideas, the more I love teaching English.