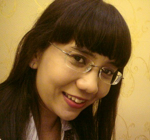 by Yitzha Sarwono Bryant
Teachers are people who dare to open doors and make ways for the students to find themselves . But sometimes, even the teachers need someone to open the door for them too. And that happened to me.
Around 2010 I started working for Montessori school. I was literally lost when I began learning about the Montessori method. I felt like everything I knew about teaching was suddenly of no use to me. That's when I met Ms Helennor Otaza Lasco, the head of curriculum in my school. She was tough. She expected nothing but the best out of me. She would position me as a student whenever she showed me a Montessori technique, and whenever I asked her a question, she would help guide me so that, in the end, I would try to figure out an answer for myself. She always tried to spark my curiosity, and I realised that was the way I wanted to make my students feel as well. With Ms. Lasco's help, I've come to realise that Montessori is based on 2 things : Learning by using all your five senses, and that all children should be provided with the freedom (within limits) to study at their own pace, so no one is left behind and no one is prevented from trying to strive for something even higher. It's a truly student centred environment.
But Ms. Helennor Lasco not only opened my eyes to Montessori, she also encouraged me to try finding more doors to open. And as they say: Fortune favours the bold, so I searched out more ways to improve my teaching. As I was trying to find resources and opportunity to learn more, I joined Twitter and there I found #ELTchat. I wasn't sure if I belonged at first because I felt like I was the only one in that community who was teaching children. But the topics discussed were useful for me (and all teachers, really) things like how to handle assessment in the classroom or Methods for teaching writing. At first, I was petrified to join in the conversation. But after getting a few responses to my first tweets, I became more involved. I even wrote up several of the official #ELTchat summaries.
It was in #ELTchat that I met James Taylor. After a discussion on #ELTchat about Dogme teaching, I posted on how I thought that it was a bit similar to Montessori. Dogme is a communicative approach to language teaching that encourages teaching without published textbooks and focuses instead on conversational communication among learners and the teacher. In Montessori, the focus is on one-on-one lessons without textbooks as well. So I was interested in using the communicative techniques in Dogme in a Montessori environment. I felt it would be a good match as both recognise the centrality of the learners' voice. To my surprise, James contacted me to support the idea of me trying to combine Dogme teaching and Montessori in my class. Not only that , he also gave me 3 slots on his blog for me to write up my experience about it! I wasn't sure at first since I wasn't a regular blogger. And to write on his blog felt like a little bit too much for me. But he convinced me to try. He let me write a draft for him and then he took the time to proofread it so I had the confidence to continue writing. I'm thankful that James, just like Ms Helen, never said that what I thought or wrote was not good enough. Instead of negative criticism, he gave me more space, the space I needed so I could get my ideas out and organised in words. James taught me that ideas belong to everyone, and every idea matters.
Long story short, the opportunity James gave me has opened up a lot of doors for me. James, along with Vicky Loras, helped me to get a piece on my Dogme/Montessori teaching experiences into the ETAS Journal, I've presented in 3 difference conferences ( 1 online and 2 in indonesia), and even more important, what James helped me do has made me believe in myself. Now I know that even this little teacher who teaches Kindergarten could leave a footprint in the ELT world and be accepted.
Since that #ELTchat back in 2012, my approach on teaching has changed. And how I see my students has changed, too. I realise that learning doesn't always need to follow a plan. The other day we were supposed to have a picnic in our school's yard and do a drama play on "Family". But the rain fell, and kept falling, so we couldn't go outside. Instead of giving in to a feeling of disappointment, my students and I had a tea party in the classroom and I read them a story and we had fun as the rain fell. Now, when my class doesn't manage to complete an assignment, or I don't meet the weekly goals I've set for myself, I realise that goals are not what's important. Learning is what matters. And instead of making my students stay late after school, I remember that there is always the next day to take the next step.
In 2013 I met two important friends, Ika and Indrie. They had come to their first iTDi event in Jakarta that year. I surprised myself by how keen I was to interact with them. I could see a reflection of myself in them. They were so eager to know more, to learn more, and to reach for more. Their desire was a reminder of those first positive influences I had gotten from Ms. Lasco and James. But Ika and Indrie were not only taking in a similar positive influence, they were also eagerly working to find ways to spread it out further. One thing I've learned about myself since I've come to know Ms. Helen and James, I'm no longer afraid. I now believe that, when it comes to studying and teaching, everyone should have the same chance. And that's what I'm trying to do, to give that same chance to all the students in my class and to find ways to pass on those chances to my fellow teachers. Because there are a lot of doors out there in the world, and we need to have as many hands as possible that are ready to swing them wide open.