English for Bogans*  By Tamas Lorincz
* Bogan: an affectionately derogatory term used by Australians, and my wife, to describe those who enjoy heavy metal, flannel shirts and/or spray-on jeans. http://en.wikipedia.org/wiki/Bogan
When you are a teenager the world is just one big battleground. You're trying to make sense of the world and your place in it, and everything just seems to be one big mess. Like me, you may have had a hard time understanding everything going on around you; you may have felt hungry, frustrated, angry. Nothing seems right, everyone is out to get you.
Now imagine you are a teenager living in a small industrial town in rural Hungary in 1986, where life itself seems at a standstill. The statue of Lenin in Lenin Street on Lenin Square is gathering thick dust but you are marched there four times a year to say thanks for the dust-covered city you live your dust-covered life in. You're doing OK at school. Not the brightest star in the sky, but not the dimmest either. Your English teacher has just given you a 3 (an equivalent of a C) and told you that you would never learn English. Well, she told Patrick really, the English-named alter ego you were supposed to assume during lessons.
In November of 1986 my father went on a business trip to Yugoslavia, and he came back with a present. I could not believe my eyes. Eddie (http://en.wikipedia.org/wiki/Eddie_the_Head) was staring at me from the cover of "Live after Death" – my first ever Iron Maiden album.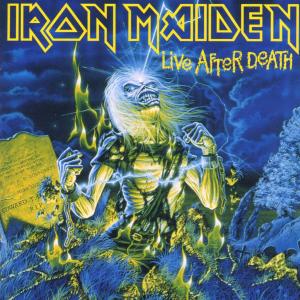 The number of needles I had to replace on the record player! For a while I screamed along without knowing what was being said – well Patrick would never learn English, would, he? – rolling about on the carpet with a broomstick for a guitar.
Later, I collapsed with the sleeve containing the lyrics, and started following them as the music played.  Did he really say that? And that? Hey, wait this is unbelievable! Somebody get me a dictionary!
That was the beginning of me, and the end of Patrick. At school, a new enthusiastic young teacher came who believed in us. She pushed me, encouraged me. Eddie and I spent hours reading lyrics, searching for references (no, I couldn't Google or Wiki it).
The intro of the album was a Churchill speech from 1940:
"… We shall go on to the end, we shall fight in France, we shall fight on the seas and oceans, we shall fight with growing confidence and growing strength in the air, we shall defend our Island…"
I started to put this into context; to understand the connections. The usual cast of heavy metal images and feelings were followed by another important connection: the "Flight of Icarus":
"His eyes seem so glazed / As he flies on the wings of a dream / Now he knows his father betrayed /Now his wings burn to ashes to ashes his grave"
I knew of Bruegel's powerful painting  "Fall of Icarus", and juxtaposed in my mind the painting with the Iron Maiden song. And then came the explosion and my being catapulted into a hitherto unknown world.
"Day after day, day after day, we stuck nor breath nor motion As idle as a painted ship upon a painted ocean…"
It was Iron Maiden who introduced me the Rime of the Ancient Mariner,to Romantic poetry, and to English literature. The dust was blown off the Lenin statue as it fell face down and I realised that the world was not that scary after all.
I was reminded of this life-changing experience at last week's Metallica concert in Abu Dhabi for a few reasons:
1. On the bus to the concert I met an Iraqi dentist who lost his father and several family members and friends in the wars since 1981, the year he was born and he said: "We live what Iron Maiden and Metallica sing about. It's about us."
2. I was listening to 15,000 people from all over the world. As singer James Hetfield James Hetfield put it: "This is the most colourful gathering of the Metallica family. You guys come here from all over the world." As everyone was singing along to every single song, I couldn't help wondering: have these four musicians done more for English language learning than any of us ever will?
3. The band's passion for their audience after 30 years is astounding. They feed off the love of their fans and they fuel this love with their passion. It's a symbiotic connection that keeps both sides going the entertainer and the entertained, the teacher and the learner.
My main task as a teacher is to find out what my students and colleagues are passionate  about and  fuel that passion. Create links and channel their passion to learning. This is why I love Barbara Bujtas's learners planting seeds and making tennis ball Pacmen as part of an English lesson.– Tamas Lorincz
Find out more about how iTDi Mentor Barbara Bujitas links her passions to learning on her Facebook group Barbi's Classes. Read more work from Tamas on his A Journey Into Learning blog. Connect with Tamas and other iTDi Associates and Mentors by joining iTDi Community. Sign Up For A Free iTDI Account to create your profile and get immediate access to our social forums and trial lessons from our English For Teachers and Teacher Development Courses.