Learning is Made of Beliefs, not Barriers  – 
By Malu Sciamarelli
December 2007, Sunday 4:30am: Slowly crawling out from the warmth of my bed, I saw my running kit and race bib patiently waiting. Smiling, I got up, dressed and went on to cross the finish line of my first 10k race in 67 minutes.  Not bad for a beginner!
Looking back, I saw how it all started: jogging around the block without coughing up a lung, doing research, hiring a personal trainer and eating healthy food. My sights were set high despite warnings from doctors after my previous serious illness: I wanted to run street races! The feeling of accomplishment from that first race has motivated me to run 20 more.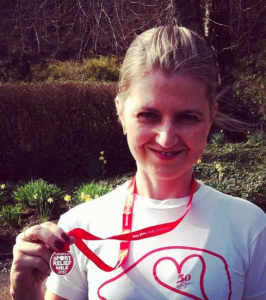 After every training or race, I was so motivated, and   I tried to pass this on to my students, sometimes with mixed success.    Motivation is essential for learning, but it has different meanings for different people and should be developed not forced.
I thought about my first run and my motivation. Three questions popped up:
–     Why people decide to do something,
–     How hard they are going to pursue it and
–     How long they are willing to sustain that activity.
I thought about the Motivational Running techniques that broke my barriers – I can't run – and which limited my real ability, and thought about a common student barrier – I can't learn English. Would the same strategy work?  In the classroom, I converted running techniques to learning techniques, as follows:
1.  Set goals
In running, you set goals to monitor your progress and with each success your enthusiasm for running soars. Remember:
–     Have specific deadlines;
–     set realistic but challenging goals;
–     write and review your goals.
With my groups, we create a contract with specific learning goals to be followed during the course, and post it on the classroom wall.
2. Utilize a log
A log helps to keep you on track and allows progress monitoring. Runners regularly review their training logs and gain motivation.
In my classroom, we have a learning diary, in which students are responsible for recording their progress individually and as a group.
3. Implement the buddy system
The Buddy system is a procedure in which two people operate together to monitor and help each other. Running with others provides accountability, builds friendships and provides mutual motivation on tough days.
My students have buddies and they operate by encouraging each other.
4. Surround yourself with reminders
Race photos and messages can sustain motivation.
In my classroom, sometimes students arrive and find post-its in different places with specific messages; occasionally the class starts with a video or simply with online posts.
5. Be creative with the process
Doing the same thing leads to boredom and burnout. In running, you can vary your workout routine.
Whenever possible, I try to start my classes in different places in school, such as the garden and move to the classroom.  We do a variety of practical projects and enjoy background music.
6. Do more to boost your motivation
In my trainings or races, when I wanted to quit, I remembered a quote and that inevitably helped me.
Each student in my groups is responsible for finding a motivational quote that can be referred to in moments of difficulty. They are also encouraged to share experiences of using English outside the classroom.
7. Occasionally enter a competition
In running, if you want to increase your motivation and feel competitive adrenaline, you must enter the occasional race. The spillover excitement motivates you afterwards to try more races.
Within my groups, we create events, such as workshops, project presentations, theatre role-plays and student judges give "peer feedback".
8. Reward your successes
In running, rewards can be a powerful motivator. When you succeed, you do something nice for yourself, such as a meal at a nice restaurant – any idea is great, as long as you follow the bottom line "be good to yourself".
In learning, although intrinsic motivation is hindered by tangible rewards that control, I believe motivation is related to enjoyment, vitality and self-esteem. So, by rewarding success in unexpected ways, it need not be seen as controlling.
By following these steps, my students are able to create motivational conditions, where they have a pleasant and supportive atmosphere in the classroom; they can help each other generate initial motivation, increasing their expectancy of success; they can maintain motivation by making learning stimulating and increase their self-confidence to breakdown self-imposed barriers.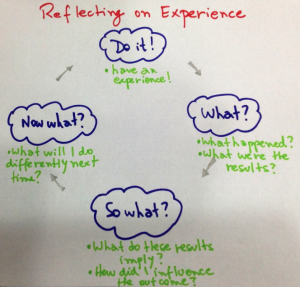 At the end of each class, I and the students always reflect using the Reflective Learning Cycle (Thornbury S. and Watkins P.), in which they can see their learning in a motivational, personal and meaningful way.
How about us, teachers? What do you believe motivates us? We may have different answers, but for me, it's when my passion to teach is caught by my students.  – Malu Sciamarelli
Malu has been working in Brazil for 20 years as an English teacher, materials designer, translator and consultant for publishers. She has taught in schools, language institutes and in companies, where she has developed a new concept of ELT in the workplace.  She's passionate about teaching. She believes teachers can affect how students perceive the world around them; they can ignite a spark of curiosity and help them develop their own creativity; they can help them overcome fears, express themselves, initiate ideas, plans, actions and a desire for lifelong learning. She's also an enthusiastic runner and she loves dogs. Website: malusciamarelli.com
Connect with Malu and other iTDi Associates, Mentors, and Faculty by joining iTDi Community. Sign Up For A Free iTDI Account to create your profile and get immediate access to our social forums and trial lessons from our English For Teachers and Teacher Development Courses.