Critical thinking in Korean education  by Josette LeBlanc
"How do you feel about learning how to write during this program?"
This is the question I ask each new English teacher who enters our in-service teacher training program. For the next five months not only will I be their trainer, I will also be their writing teacher. Without fail, the most common answer I get from these teachers ranging from age 27 to 52 is:
"I'm nervous because I haven't learned how to write. Not even in Korean. I don't know how to organize my ideas."
You can imagine how compounded this anxiety gets when they start thinking about how they will have to start teaching writing in the next few years. These worries are completely understandable. Not only do most of these teachers teach to a test that promotes memorization, they were also raised in this system. In Korea, the College Scholastic Aptitude Test (CSAT), or suneung (수능), is king. It is the culmination of countless hours of rote learning, and your score determines if you will enter a university worthy of embarrassment or praise. In a country that honors such a pedagogical system, most educators have a hard time finding room for engaging their students in critical thinking: the process of observing, analyzing or questioning, and finally of coming to your own conclusions. And from what the teachers' answer to my question about writing tells me, they might not even know where to begin.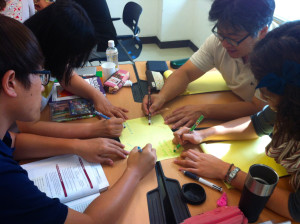 I think there is great value in expressing what one thinks, in writing or otherwise. When we are given the chance to question and explore, we get a little closer to understanding ourselves and the world. Through this understanding we are better equipped to make decisions that will contribute to our happiness and to the well being of others. When I hear about the school violence or teen suicides in Korea, I wonder how a system that suppresses creative thought and glorifies competition contributes to these horror stories. (See Curtis Porter's post, School Violence in Korea, for more on this topic.) I also wonder what a little more space for critical and creative thinking might do for these students.
This is the space our program tries to guide the teachers through. In writing class they analyze genres and different organizational patterns such as short stories, narratives or argumentative essays. Collaboratively, they discuss and debate topics that hit close to home: Should corporal punishment be banned from schools? Should English be removed from the CSAT? What would your dream school look like? The teachers explore grammatical or lexical structures that will help them express what they want to say. They go through the writing process. In the end, the majority of them are successful in organizing their ideas into a text I believe is quite powerful.
At the end of the five months, what they have to say about writing is along these lines:
"Not only have I learned how to write, I have learned how to think. It was a wonderful experience to think about myself as a teacher and as a person. I feel more confident about myself as a teacher and writer."
There is no greater gift than knowing the pleasure and empowerment they got from exploring their thoughts. It gives me hope for their future and for the future of their students.
For many of these teachers, this writing experience becomes a faint memory, drowned in the test-focused system. However, some have managed to convince their principals to allow them to teach after hours writing classes. A rare few have even implemented writing skills in their curriculum. Perhaps writing itself does not always equal critical thinking, but it is a first step. I know these teachers are trying to give their students a voice. They recall the feelings they had about writing and they want their students to feel the same. I am excited to see where these seeds of thought will spread.
For more on the topic of critical thinking in Korean education, I recommend these links and articles: