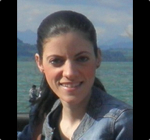 How can we encourage student collaboration?
The classroom as an environment, a place where students feel welcome and comfortable – that is what I imagine as a great learning place. It all starts from the teacher: when the educator creates such an environment, the students instantly feel it and help cultivate it.
It can all start from the moment when an educator sets pair work and rotates partners – the students feel comfortable with each other. I have noticed that a good relationship among them can lighten the atmosphere and create a great place for interaction and learning. They also then enjoy learning in small groups or pairs and even go after such ways of collaboration. I have noticed a nice image in my classes: I instruct my students to complete a task and they automatically turn to the person next to them and start discussing the topic, exchanging opinions and working together. Their relationship is so much based on cooperation, that when one of them is absent, the others contact them to update them on what they missed. When that happens, I know something great is going on!
In some cases, I find students who have something in common so they can use that to their advantage in a cooperative task. They feel that they share something, that they can create something together and that inspires them to work alongside each other. Expanding a little further, when the class collaborates in little cells such as pairs or small groups, then those cells create a healthy body!
Of course sometimes it can be a matter of character and some students might not be able to work with each other, but I have noticed in other teachers' classes as well as my own, that when educators try to cultivate a great atmosphere in class, in the majority of times they succeed.