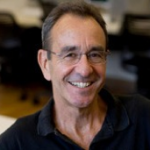 Two or three hours of English is just not enough. Even studying in a classroom for several hours a day, you're unlikely to achieve a high level if you do nothing in between.
As Leo van Lier put it, 'The students' minds must occupy themselves with the language between lessons as well as in lessons, if improvements are to happen'.
Maybe what happens between lessons is as important – or more important – than what happens in them. Think of the classroom as a kind of 'pit stop' where learners come in to be re-fuelled and change their tyres. The real action is happening outside.
But I don't like to call it 'homework'. To me it's more like 'out-of-class work'. Or 'between-class' work.  Confining it to the home is to limit it unnecessarily (not to mention all the negative connotations that are associated with the term 'homework').  We need to take homework out into the street.
Literally. There is English everywhere and every learner have some means of collecting it, whether camera, cell phone or just pen and paper. Even if each student captures just one piece of English – that's 20 potential topics for discussion (in a class of 20).
Here is some of the English I collected today in my 'barrio' in Barcelona, in just 20 minutes on the way to the gym.
OK, Barcelona is a fairly touristy town, but there's English in the most unlikely places.
Some of it is just words, some phrases, and some whole sentences. Some is translated. Some is not. But it all sends a message. It's part of the linguistic landscape, and it's a great source of discussion and research, when your learners bring it back to the classroom.  Here are some questions you could have them discuss:
Where was this photo taken?
How many languages can you see?
Who wrote it? For whom?
Why is (some of it) in English?
Is there a translation? Why/why not?
Is it correct?
Is there anything you don't understand?
Is there anything you would like to remember?
Scott