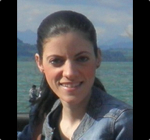 Culture and Diversity – Our Mental Backpacks – Vicky Loras
My name is Vicky Loras. I teach English Language and Literature to students of all ages…and I am multicultural.
I was born and raised in Canada, by Greek parents who were also raised in Canada. My ancestors dating back to 300 years ago hail from France, then they moved to Italy, then Greece … before them, who knows?
If I ask you, some of you descend from one, two, perhaps more cultures, or know someone who is bicultural, multicultural. Your class as a total can be a multicultural hub, buzzing with countries, languages and various traditions and customs. It could be monocultural as well, which is also fine.
Our personal or other people's experiences are a vast resource of ideas on multiculturalism that we can use in a classroom –a backpack we take with us in class mentally. The only difference from a real backpack is we never have to worry about packing it the night before, or carry it with us, or worry it is not full enough. It is always full and regardless of what class we teach, the age or level of students, there is a multitude of ideas we can implement in class. Why this specific topic, you may ask? The students can learn a great deal and so can we, as I believe educators can always learn alongside and from our students. Additionally, I believe that a classroom is not only a place for educators to teach and then let the students out of the room. It is a place where we can give our students values. It is a topic I have written about, read about, discussed with other educators. A lot ask me. Why use culture in class? What can it offer?
I will start with the younger students. I have them dig into their cultures and bring anything that has to do with them in class: be it a book of their country, a picture they have made themselves, a photo, an album, a souvenir, music, absolutely anything. They can even say a small phrase in their language. And then the magic begins. The children begin to participate as a group, and start asking each other amazing questions, without even being prompted. It is their natural curiosity which incites them.
Once, we took each child's country and I gave all of them printouts with all the flags of the children's countries. So they did not only do their own flag – they did all of them. We always talk when we are coloring ("May I have the pink, please?", "Can you help me draw the head of my horse?") so now they were asking each other questions like: "What colors are on the flag of your country?", "Why?", "Why is there a sun on your flag?" And the only thing you could hear inbetween were "wows" and "Do you hear Ms Vicky? My flag has the same colors as the other child's!"
A good idea is to have a shelf or bookcase, even better, full of books on multiculturalism. Some titles are The Story of Ruby Bridges by Robert Coles and The Crayon Box That Talked by Shane Derolf and Michael Letzig. I have some here with me…
It can also be difficult though. Once, I faced a difficult situation. I was at the very beginning of my career so my shock was double. I was teaching in Greece at a time when there was not a variety of people from other countries. I had a new packet of reward stickers with faces of children from around the world. I give a student the face of a child, a child from a different country, with a dark complexion. Then came the reaction:
No, no! I do not want that sticker!
Why?
Because she has darker skin and we do not.
Do you know why she has darker skin?
No.
Because she lives in a much hotter country than we do and her skin protects her from the sun. But no matter what her skin color is, she is like you. Perhaps she goes to school, she likes playing like you do…
…and that was his aha! moment. Children need you to talk to them. And they understand, no matter how young they are and I can guarantee you that. They listen and they understand. They notice things a lot. And it takes patience to show them the way and face any misconceptions they may have.
In our school that we had in Greece with my two sisters, on the walls we had pictures and posters of people from all over the world: the children noticed for instance the Native Americans who lived and live in Canada and the United States and asked questions about them. I had a poster of Martin Luther King in my classroom. Children as young as eight years old asked and understood notions of racism and equality. They came out of that class knowing who Dr. King was and what he did and for whom. And they came out of all the classes knowing things about people from all over the world. We continue the same in our new school here in Switzerland.
As educators, we are not there to impose our opinions, but to open their minds and accept diversity as something beautiful, because it is. I always ask them: wouldn't it be a boring world, if we were all the same?
I recommend trying everything with our students and see their response. These can become excellent lessons full of values they can take with them for the rest of their lives.
Connect with Vicky and other iTDi Associates, Mentors, and Faculty by joining iTDi Community. Sign Up For A Free iTDi Account to create your profile and get immediate access to our social forums and trial lessons from our English For Teachers and Teacher Development courses.
Like what we do? Become an iTDi Patron.
Your support makes a difference.